Missions (NMI)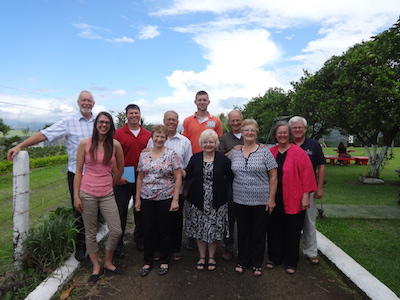 Nazarene Missions International
(NMI) is the organization for mobilizing the local church in missions in the Church of the Nazarene and the denomination's representative for missions on the district and in the local church. Their goals are:
• Encouraging people to pray for all efforts of world evangelism.
• Informing people of the world's need and what the church is doing to meet those needs.
• Challenging children and youth to learn about and participate in the mission of the Church.
• Raising funds for Missions Outreach.
Manteno Church of the Nazarene strives to accomplish those goals by:
Bandage Rolling
We roll bandages for the Kudjip Nazarene Hospital in Papua New Guinea. The bandages are made from old sheets that have been torn into strips and rolled into rolls. The hospital uses them for a variety of purposes. According to Erin, missionary to the PNG, "they are kind of like duct tape - good for just about anything in a mission hospital.
Crisis Care Kits
Crisis care kits are a part of Nazarene Compassionate Ministries' worldwide disaster relief strategy. They are gallon bags that are filled with hygiene items. The kits are prepared throughout the year and stored at one of three warehouses across the United States where they can be mobilized quickly during disasters. The warehouses move anywhere between 6,000 to 10,000 crisis care kits during a busy hurricane season. Crisis care kits meet the needs around the world. The kits have gone to places like Belize, California, Dominican Republic, Jamaica, Jordon, Louisiana, Philippines, Senegal, Sri Lanka, Ukraine, Hati, Cuba, and Zambia. Your generosity makes an incredible difference! We collect for crisis care kits all year long and collect supplies in the coatroom.
Crisis Care Kits Shopping List
• 1 medium-size bottle of shampoo (12-18 oz.), please tape flip-tops closed
• 2 bars of soap (bath-size or larger)
• 1 medium toothpaste (4.0-6.4 oz.)
• 3 toothbrushes (in original packaging)
• 1 box of Band-Aids (30 or more)
• 1 fingernail clipper
• 1 sturdy hair comb
• 2 hand towels
• 4 pocket-size packages of facial tissue
• 1 Beanie Baby-size stuffed toy
Faith Promise
Faith Promise is exactly what it states—a promise made in faith between an individual and God. Faith Promise gifts are given systematically for global missions throughout the year. We encourage you to pray about the amount you plan to give for global missions. You can choose to give weekly, biweekly, monthly, or a one-time gift. Giving through FAITH PROMISE is an adventure and an opportunity to allow God to show how He provides when we open our hearts in generosity.
When you give, you support:
Regional mission work in Africa, Asia-Pacific, Eurasia, Mesoamerica, South America and USA/Canada.
Hundreds of missionaries who receive funding, insurance, and member care.
Partner ministries such as Nazarene Missions International, Nazarene Youth International, Work & Witness, and Global Missions.
The creation of resources and literature in over 90 languages for churches all over the world. This includes resources for pastors and Bible-based teaching materials for children, youth, and adults.
Clergy development and ordination in the Church of the Nazarene and holiness education through Nazarene institutions of higher education.
Independently funded ministries like Nazarene Compassionate Ministries, JESUS Film Harvest Partners, and World Mission Broadcast that benefit from the Church of the Nazarene's worldwide network.
Visit the Nazarene Compassionate Ministries website.
Missionary Books
Read stories about missions from around the world to see how God is transforming lives. Missionary books are available as ebooks, pdfs, or audiobooks on the global NMI Mission page.
Nazarene Missionary Prayer Mobilization Line
Pray for missions around the world. Sign up to receive this weekly email from Nazarene Missions International
Mission President: Lynne Utter, email:
This email address is being protected from spambots. You need JavaScript enabled to view it.