Manteno Kids

| | | |
| --- | --- | --- |
| | January - December 2022 | |
| | Upward Basketball (postponed) | Jan-Mar |
| | PreK Hoops (postponed) | Feb-Mar |
| | Palm Sunday, 10am | April 10 |
| | Easter Celebration, 10am | April 17 |
| | Escape Room, 6:30-7:30pm | April 20 |
| | Girls' Night Out, 6-7:30pm | May 13 |
| | Guys' Night Out, 5-7pm | May 20 |
| | VBS, 6-8pm | June 5-9 |
| | VBS Sunday & BBQ, 10am-12pm | June 12 |
| | Game Night | June 15 |
| | Family Field Day | June 22 |
| | Messy Fun Night | June 29 |
| | Fireworks Event | July 3 |
| | Kids Camp at ONU | July 7-10 |
| | Super Hero Night | July 13 |
| | Water Night | July 20 |
| | Family Kickball & Rootbeer Floats | July 27 |
| | Hayrides & Dessert @ Reardanz Farm | Aug 3 |
| | Service Project for Cancer Patients | Aug 10 |
| | Back to School Bash | Aug 17 |
| | Run & Fun (PreK Open Gym) | Aug-May |
| | MOMSnext (moms of 5-18 years) | Aug-May |
| | Trunk-or-Treat | October |
| | Angel Breakfast (PreK) | Dec |
| | Christmas Program | Dec |
| | | |
June 5-9 | 6-8pm
Amazing experiments, creative games, new friends, fun snacks, surprising adventures, and incredible music. Don't miss out on this evening camp for kids entering Kindergarten through fifth grade! Register here
Escape Room
April 20 | 6:30-7:30pm
Use clues, codes, puzzles and more to discover where Jesus is. You'll have 35 minutes to work as a team and solve the challenge. Please RSVP to Pastor Amy through the church office, ext 2.
Girls' Night Out
May 13 | 6:00-7:30pm
Girls and Grandmas/Moms are invited to enjoy desserts and create crafts togther. RSVP to Pastor Amy.
Guys' Night Out | 5-7pm
Guys and Grandpas/Dads are invited for a night of high energy games playing nerf war and flashlight tag. Pizza is provided. RSVP to Pastor Amy.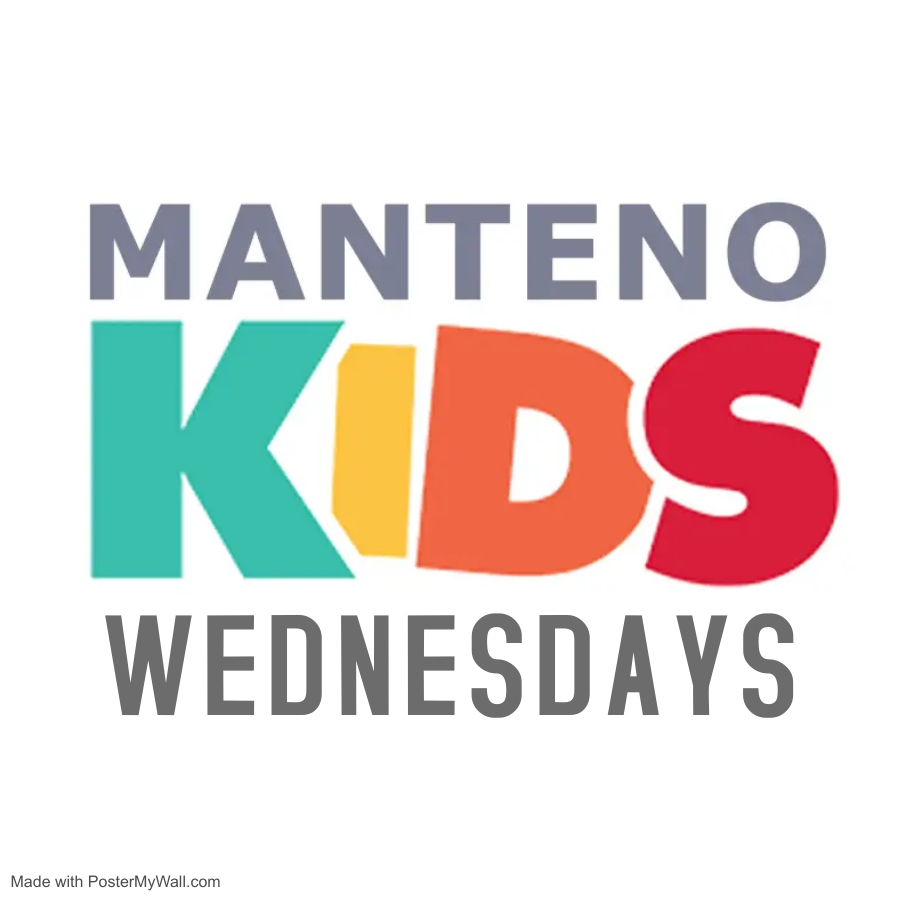 Manteno Kids Wednesdays 2022
Every Wednesday, 6:30-7:30pm
Children start out in the game room playing with friends, foosball, air hockey, pool, ski ball, crafts, and games. Children then engage in a bible story, have time to discuss and wonder about God, learn a bible verse, and end with a group game. The goal of Wednesday is to have fun, connect with friends, and learn about God's Big Story. (No programming on June 8 or July 6).
No RSVP needed, just show up and sign in!
Sunday Services
Register your children, ages nursery through 4th grade, at the Manteno Kids table in the front foyer. Next, attend the beginning of the service together. Then, kids are invited forward for a Kids' Moment and dismissed to age leveled classes.
MOPS 2022
Two Fridays a month from 9-11am.
Moms of nursery through Kindergartners are invited to attend MOPS. Children attend age leveled classes while moms enjoy breakfast, coffee, devotions, crafts or a speaker, and small group.