How to Give Online

---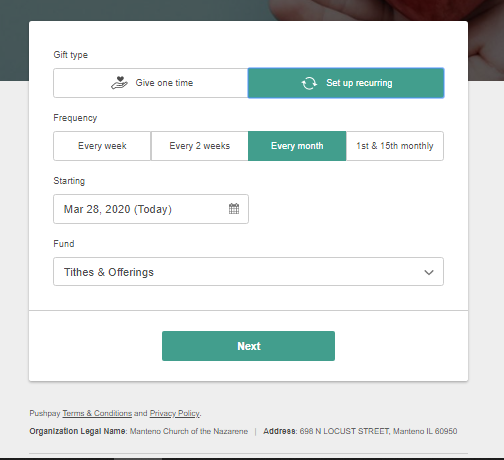 Step 1
Click the Give Now button. It will take you to https://pushpay.com/g/mantenonazarene
Step 2
Choose the Amount of Gift
Step 3
Choose one time gift or recurring gift. If you chose to set up a reoccurring gift, it will give the option of frequencies and when to start.
Step 4
Choose Fund on drop-down menu. (What type of giving? Tithes, Faith Promise, etc.)
Step 5
Verify Your Mobile Number. Enter your mobile number and it will send you a text with a security code. Enter the security code.
Step 6
Enter the Payment Method.
---
FAQ
Why are we switching our online giving platforms now?
Our online giving platform is changing to Pushpay. They purchased our church management software, Church Community Builder. The value to the church and the easier options for giving (text to give, mobile app) made it advantageous to switch at this time.
Will I still be able to get my giving records from the old giving platform?
Community Church Builder, CCB, is our church management software. We are not switching off of it. Giving is just a portion of what we do within CCB. We also do addresses, scheduling, attendance, etc. We are just switching giving platforms, an integration through CCB. All records will still be available.
Do I need to cancel my recurring giving on the old platform?
Yes. Go to https://mantenonazarene.ccbchurch.com/
Is there a mobile app for giving?
Yes. You can download the Pushpay app.
Is my Church Website (CCB) Username and Password the same?
Yes
Can I still give with a check or cash?
Checks and cash can be given during our weekend services, through your online banking bill-pay system, or mailed to:
Manteno Nazarene Church
PO Box 698
Manteno, IL 60950
Can I give by text?
Yes. Text the words "MCN GIVE" to 77977.
| | | |
| --- | --- | --- |
| Ways to Give | Give Your Time | Financial Integrity |
| We believe in the gifts of time, talent, and treasure. If you are interested in Estate Giving or other types of gifts, click below. | Serving Others is an integral value at MC. From the parking lot, to services, to caring for people during the week, we believe everyone should get connected by Serving Others. | We publish monthly financial reports. Our Church Board, Finance Committee, and Staff work diligently to be good stewards of the Lord's blessings. If you have any questions, please contact us. |
| This email address is being protected from spambots. You need JavaScript enabled to view it. | This email address is being protected from spambots. You need JavaScript enabled to view it. | This email address is being protected from spambots. You need JavaScript enabled to view it. |