How to Give Online

---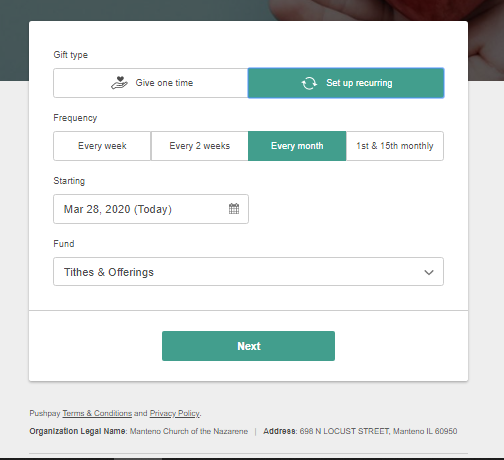 Step 1
Click the Give Now button. It will take you to https://pushpay.com/g/mantenonazarene
Step 2
Choose the Amount of Gift
Step 3
Choose one time gift or recurring gift. If you chose to set up a reoccurring gift, it will give the option of frequencies and when to start.
Step 4
Choose Fund on drop-down menu. (What type of giving? Tithes, Faith Promise, etc.)
Step 5
Verify Your Mobile Number. Enter your mobile number and it will send you a text with a security code. Enter the security code.
Step 6
Enter the Payment Method.
---
FAQ
Is there a mobile app for giving?
Yes. You can download the Pushpay app.
Is my Church Website (CCB) Username and Password the same?
Yes
Can I still give with a check or cash?
Checks and cash can be given during our weekend services, through your online banking bill-pay system, or mailed to:
Manteno Nazarene Church
PO Box 698
Manteno, IL 60950
Can I give by text?
Yes. Text the words "MCN GIVE" to 833.827.7949.
| | | |
| --- | --- | --- |
| Ways to Give | Give Your Time | Financial Integrity |
| We believe in the gifts of time, talent, and treasure. If you are interested in Estate Giving or other types of gifts, click below. | Serving Others is an integral value at MC. From the parking lot, to services, to caring for people during the week, we believe everyone should get connected by Serving Others. | We publish monthly financial reports. Our Church Board, Finance Committee, and Staff work diligently to be good stewards of the Lord's blessings. If you have any questions, please contact us. |
| This email address is being protected from spambots. You need JavaScript enabled to view it. | This email address is being protected from spambots. You need JavaScript enabled to view it. | This email address is being protected from spambots. You need JavaScript enabled to view it. |