Safe Harbor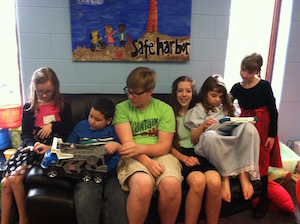 Safe Harbor is designed for any children with special abilities. We know in most settings, your child would be considered a special needs child. However, we believe that when we allow Him, God can turn our special needs into special abilities.
Each of us is a valuable part of His Master Plan. We are "fearfully and wonderfully" made. We consider it a God-given privilege to serve your family and invite you to our Safe Harbor ministry, where lessons are tailored to the children present.
We believe every child should have a place to belong and realize that the traditional formats of kid's church and Sunday school are not always practical avenues of ministry for some. Safe Harbor provides a loving atmosphere where your child will hear and feel the love of Jesus as we minister to him/her and your family. For more information, contact the church.
Safety is our priority with all children's ministries, and we have an in-depth security process for checking children in and out of Safe Harbor. All adults who volunteer or work with children at Manteno Church of the Nazarene must pass a background check to ensure your children will be safe.
Times:
Currently, Safe Harbor is offered on Sundays only, starting at 10:00 with Sunday School and going through second service.